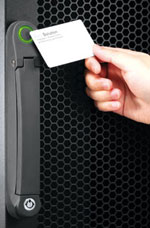 APC has been offering a solution since ~2007 with the NetBotz PX AP9361 (Now NetBotz Access Control).  These support the usage of HID proximity cards so hopefully the same cards you use in your facility can be used.  Each kit is good for one rack, and secures both the front and rear doors, it includes contacts for both doors so if someone uses the physical key rather then an access card it can send an alert, or work with other NetBotz devices to snap a photo and send you the mugshot.  The only downside is that you must have NetShelter SX rack enclosures.
Just picked this up--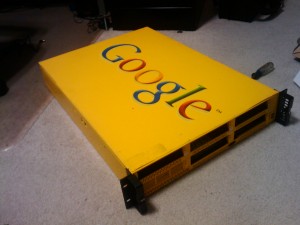 Ken found a pair on Craigslist for $50 each, no hdd's but x2 2.6ghz dual core procs with 4gb of ram. (DDR2). Working great thus far will be my new Linux Router.
No drive sleds so the case is useless, can't source them online for a reasonable price will transfer over into one of my 2U or 4U chassis.
So I've been wanting a storage system for a few years now. I was thinking just some hardware RAID with some big drives and leave room in the chassis for expansion but after reading article after article saying URE's will pwn your ass on large arrays during rebuilds I was very skeptic. *Enter ZFS*
ZFS is like the holy grail of storage. Yes software RAID rules...
Norco RPC-4020
Two 80GB WD 10K SATA Raptors
2 Supermicro
Other raid controller
2GB DDR2
xyz mobo
AMD X2 4050+ or some shit
Still need to pickup some data drives, the raptors are for a mirrored OS volume.
Finally mounted up my newest bot in the garage, collecting data to see the environmental differences between inside the rack and outside...
So far it seems to be just around 20 degrees Fahrenheit...thinking about using a bunch of 1-wire tempature sensors wired to create a 72" long tempature monitor, with 1 sensor every 12".  That should let me do cool things with monitoring the rack temperature almost per rack unit or something...
So I wish I had a neat little graph to post, however it's full of holes due to my syslog/snmp monitoring server powering itself off due to thermal events...In the summer heat here in South Florida my rack gets to over 112°F.  It's in the garage due to the sheer noise and the heat that is generated, I have been contemplating a portable room a/c unit or one of those split systems but both would be a waste of energy since the garage door opens atleast 2 times a day.  All of my whitebox and my larger Dell server don't give a rats...that it's 112°F.  Only this 1U Dell PE1550 seems to care.  But in reality I can't even blame it all on that server, the rack's UPS has been needing a new battery cartridge for over 3 months so it's possible that it's dropping power and the other servers power back up and not that one...The NetBot's Device Crawler indicates that *could* be the cause with uptimes of the core network devices in that rack.  Either way I need to get to the bottom of this as I am virtualizing more and more on that 1550...I guess I'll head by batterysplus and get raked over the coals for the no less then 8 batteries in this cartridge...damn technology...
Just got this Dell PE1950 from fleabay for a mere $55 bucks.  The guy was local so a quick drive to pick it up.  Planning on using it for VMWare, it's a dual 1.4ghz P3 with 2gb of ram.  Rack'in it was fail because it's designed for square hole racks, not my round ibm rack...(not a versa/rapid rail issue) it's like chassis has slots to fit into square holes only, I might just trim them a bit to make it fit, but meh...

So I've been adding and maintaining this uber rack for a few years, the other day I snagged a Dell 2161DS IP KVM with 8 SIP's for a mere $300. It's the device directly under the monitor.

Other cool things in the rack:
Dual ESE NTP Timecode Servers. (Very top)
APC NetBotz RackBotz 400 (Thing with the camera lense in the middle)
APC InfraStruXure Manager (Under the netbotz)
3Com 3300XM Switch
Dell PowerEdge 2500 (Dual 1.4GHz) -- It's my ClarkConnect Linux Router
A few other misc "white box" servers (VoIP PBX, VMWare, MythTV Backend)
APC Smart-UPS 3000RM2 w/ AP9617 Card
APC Share-UPS (not viable because it's 0U'd in the back)
IBM Netbay PDU (not viable because it's 0U'd in the back)
APC Smart-Slot Expansion Chassis (not viable because it's 0U'd in the back)
Next additions will be an rackmount KMM (Keyboard, Monitor, Mouse) that will take a 10th of the space the current monitor does. An APC Environmental Monitor, and a Terminal Server for all the out of band management.
The rack itself is an IBM NetBay11, decommissioned from the ever so unpopular Lycos Search Engine