So this was a challenge--I wanted to eliminate the X10 remote and disable X10 on my INSTEON switches for the home theater.  In doing so I wanted to use the INSTEON IRLinc to convert IR signals to INSTEON.  This would allow me complete control via my Logitech Harmony Remote.
I hooked up the IRLinc and paired up my devices to Scenes A/B and everything worked fine with the IRLinc credit card remote.  To get the Harmony setup I had to add custom commands for Scene A on/off (Screen Up/Down) and Scene B on/off (Wall Scones on/off).  These had to be learned on the Harmony using the IRLinc remote when I was done I quickly discovered control from the Harmony was very unreliable.  I toyed with this for a few days on and off and eventually got fed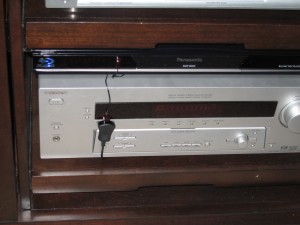 up and tossed it in a drawer to forget about.
Last night Ken was over and I decided to have two minds look at it 😛 I knew it should work, and with a fresh pair of eyes we got it working.  We hooked it up and everything worked properly--I had previously added the INSTEON switches to the IRLinc's scenes and it had retained those settings.  Testing it with the IRLinc's credit card remote everything worked fine (as before) but with control via Harmony was very unreliable just as before.  We tried relearning the IR signals and that wasn't getting us anywhere while sitting there staring at the screen we saw the "Custom" button on the IR Learn page in the Harmony software.  When we hit that we saw that all our learned commands had "Analyzed" next to them so we hit the new Learn Raw button that appeared once we hit the Custom button.  The learning process was a lot faster and we quickly updated the remote to test.  Success!  We learned that the Harmony doesn't replicate IR codes it learns exactly.  By default the remote analyzes the IR signal and fixes any issues or interferance it encounters (sunlight in the room for example has IR light).  When the Harmony analyzed  the IRLinc's signal it would clean the signal so much to the point that the IRLinc wasn't able to respond because it wasn't receiving the proper IR signal.  Hopefully this post helps others who have IRLinc's in drawers from failed integration with Harmony remotes.
We mounted the IRLinc's receiver on the front of my A/V receiver since I have no spare IR Emitters.  I don't think I'll even pickup another IR emitter for this since it's always behind a closed door.