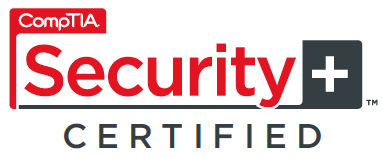 So I took my CISSP a few months back and I wanted to knock a year off the work expereience requirement ISC2 requires I went ahead and took SY0-201 yesterday.  Exam took just under 20min, the only sucky part was that the testing center I went to took 34minutes to seat me.  Guess they assume people have nothing better to do...
So I bought an exam voucher for $99 bucks last night, plan to knock this out in the next few months.  (Need to tackle Security+ first)
I should have taken this last year after I got my CVE (Certified Virtualization Expert) but wasn't thinking.  I don't expect it to be very difficult at all after reviewing the Exam Blueprint, for the technical bits, it looks like 99% point-click GUI knowledge and 1% command-line (apart from all the various product version/requirements stuff).  I think I will move for the VCAP-DA after getting my VCP out of the way, the CVE course really forces you to learn command-line and not rely on the GUI for everything.  I feel prepared pretty well for VCAP-DA as well, though that will require some brushup and lab work.  The only bits I haven't used that VCAP expects are are Orchestrator, vShield Zones, and vCenter Linked mode.
Not sure what I'm going to do about the course requirement, I never attended any of the required VMware training courses...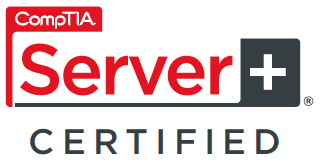 I didn't even really want to take the test but did, I passed CompTIA Server+ today.  So I received word that I passed my CISSP exam a couple of weeks ago but since I don't have a "solidly verifiable" 5 years experience in the various domains I would have to either wait until 2012 to be officially a CISSP or pass Security+, and that would knock it down to only 4 years of experience required.  I never pay full price for an exam so checking my usual spots I thought I would come up with a Security+ voucher for cheap but all I could find was Server+ for about $100.  I figured what the hell, it's a CompTIA test no study required and bought it to waste some time.  I went and took the test a few days later, and passed with a solid score of like 865.  Chalked up my  2nd CompTIA certification with no studying. (did the same with i-Net+ on accident a few years ago when Prometric mis-scheduled me for i-Net+ instead of Network+.
Today I received notification that I passed my CISSP exam.  I still am not an offical CISSP since there are other requirements apart from passing the exam.  So for now I'm an "Associate of (ISC)2"....I will be taking Security+ soon and in February I should be an official CISSP.
Took my CLE9 (Certified LANDesk Engineer) exam today, thought it would be alot tougher then it was...Test seemed like it would never end though.  I think this was because  they don't present the questions one at a time, you get all of them at once and have to keep scrolling down.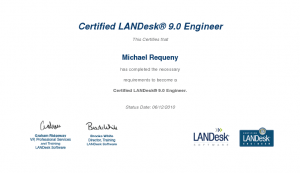 I took the CVE (Certified Virtualization Expert) exam today, I was very confident in the material and broke my personal fastest exam time record.  I finished the exam in under 13 minutes.  Thats not to say it wasn't a challenging exam though--this exam I really worked hard on, and taking the exam was a joy being so confident in the material.  I should go get my VCP right away but since the requirements for being a VCP isn't just passing the exam, you also have to attend a required VMware training course I am discouraged from obtaining my VCP.
None the less, the CVE exam was more challenging then what I read from the VCP Exam Blueprint, you have to know alot of command-line stuff for CVE.  VCP on the other hand doesn't really require a lot of command-line knowledge.  I really enjoyed the training course I attended this past week that helped prepare me for the CVE.  Plus I had one of the best instructors ever Shawn MacArthur.  He wasn't a death by PowerPoint kind of guy, kept it very fun and engaging and put up with my shenanigans for a week.