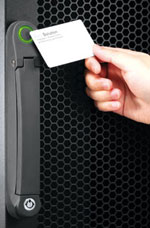 APC has been offering a solution since ~2007 with the NetBotz PX AP9361 (Now NetBotz Access Control).  These support the usage of HID proximity cards so hopefully the same cards you use in your facility can be used.  Each kit is good for one rack, and secures both the front and rear doors, it includes contacts for both doors so if someone uses the physical key rather then an access card it can send an alert, or work with other NetBotz devices to snap a photo and send you the mugshot.  The only downside is that you must have NetShelter SX rack enclosures.
Mastiff used to sell a solution to retrofit non-APC racks with new electronic solenoid handles, but I don't see mention of it on there site anymore.
Austin Hughes sells a solution to retrofit non-APC racks with new electronic solenoid handles with integrated card readers (very much like the APC solution)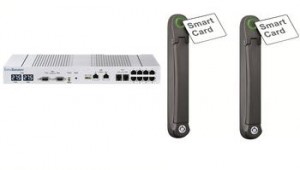 --though all the pictures I see look like IBM racks, I'm not sure what other racks they support...
If you don't have NetShelter SX racks, some magnetic locks can be mounted on the front and rear rack doors, unfortunately you'd have to mount them outside of the racks on top most likely if you are using modern racks, (older racks seem to me much more roomy for this type of thing) but still would provide a retrofit solution for those without APC racks, advantage there is you could integrate them with your building access control system so you have one centralized access control system, rather then managing multiple NetBotz PX systems (I'm sure APC's InfraStruXure Central would manage the NetBotz PXs as well if you needed it to).
This post was because I get a bunch of hits every month from people searching for card swipe server cabinet