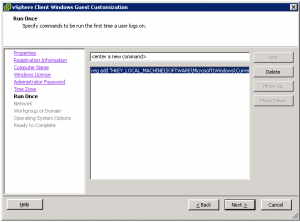 If your not using guest customization specifications, get going now!  Some people ask why do this in a VMware Template when you can do it via Active Directory using Group Policy.  We use our templates a lot for test machines which may or may not end up joined to a domain.  This ensures that no unwanted updates get applied  to these test machines. Works great across Windows XP, Server 2003, Vista, Server 2008 and Windows 7 (might also work on Windows 2000 but I didn't check).  If you don't know what guest customization specifications are checkout my other posting explaining all about them and howto create one.
To disable Automatic Windows Updates, all you need to do is add this entry to the RUNONCE area of your customization specification:
reg

add

"

HKEY_LOCAL_MACHINE

\

SOFTWARE

\

Microsoft

\

Windows

\

CurrentVersion

\

WindowsUpdate

\

Auto

Update

"

/

v

AUOptions

/

t

REG_DWORD

/

d

1

/

f
It's that simple!

When using guest customization specifications in vCenter you may come across the following error when deploying a VM using a specification: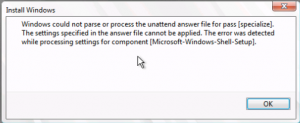 Windows could not parse or process the unattend answer file for pass specialize.  The settings specified in the answer file cannot be applied.  The error was detected while processing settings for component [Microsoft-Windows-Shell-Setup].
The Solution
Edit the specification and double check your product key, an invalid key is a common reason for this error.  In my experience Windows 2008 and Windows 2008 R2 keys cannot be interchanged--yet I see this attempted to be done in guest specifications.