Checkout this awesome new Fling from VMware Labs, it's called InventorySnapshot.   Basically what it does is allows you to snapshot your vCenter and reproduce it on another vCenter.  Say you were doing an out of place migration and didn't want to bring your old database along for some reason, or just in your lab trying to replicate your production config.  You don't have to reproduce all the objects though, you can specifically restore just Resource Pool settings, DRS settings, Roles & Permissions, or again the whole damn inventory.
InventorySnapshot supports reproducing the following vCenter objects:
Datacenter Folders
Datacenters
Clusters
Resource Pools
vApps
Hierarchy
Roles & Permissions
Configuration Settings
Custom Fields
As you can see the only major item they are missing is Alarms, which they are working to support. The developers Balaji Parimi and Ravi Soundararajan did an excellent job documenting their Fling with a 17 page doc, they took the time to write a large troubleshooting and layout a few caveats/known bugs.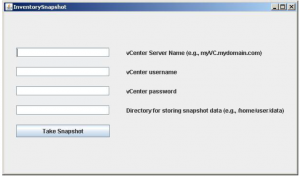 The requirements to run InventorySnapshot aren't anything special:
vCenter 4.0 or higher (both target and source)
Java 1.6.0_23 or higher
PowerCLI 4.1.U1 or higher
Unique names: If you have 2 datacenters and you have a VM named WWW in both datacenters, you sir suck and will confuse InventorySnap.  This also applies to cluster names, resource pools, etc.
No special characters in your objects except for dashes (VM names, cluster names, etc.)
So what are you waiting for?
Get InventorySnapshot or at the very least look over the documentation to understand the power of this tool or watch their short YouTube walkthrough video.