When using guest customization specifications in vCenter you may come across the following error when deploying a VM using a specification: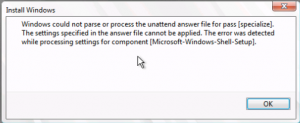 Windows could not parse or process the unattend answer file for pass specialize.  The settings specified in the answer file cannot be applied.  The error was detected while processing settings for component [Microsoft-Windows-Shell-Setup].
The Solution
Edit the specification and double check your product key, an invalid key is a common reason for this error.  In my experience Windows 2008 and Windows 2008 R2 keys cannot be interchanged--yet I see this attempted to be done in guest specifications.