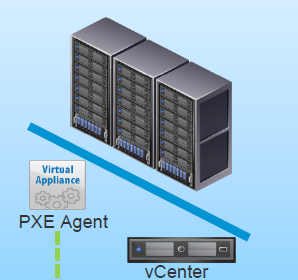 PXE Manager for vCenter enables ESXi host state (firmware) management and provisioning, Specifically, it allows:
Automated provisioning of new ESXi hosts stateless and stateful (no ESX)
ESXi host state (firmware) backup, restore, and archiving with retention
ESXi builds repository management (stateless and statefull)
ESXi Patch management
Multi vCenter support
Multi network support with agents (Linux CentOS virtual appliance will be available later)
Wake on Lan
Hosts memtest
vCenter plugin
Deploy directly to VMware Cloud Director
Deploy to Cisco UCS blades
What does that mean?  It automates the provisioning of ESXi hosts in either a stateless or stateful mode.  (notice no ESX support here!) via network boot using Pre-boot eXecution Environment (PXE)
How does that work?
Remember ESXi has a very small footprint--it's quite small that PXE booting ESXi is very easy.
Stateless and Stateful?
Stateful means the host keeps the "ESXi state" upon reboot--meaning the same version.  Think back to Microsoft RIS (remote installation services) days for VMware ESXi.
Stateless means the host doesn't keep the ESXi state upon reboot.  Why the heck would you want to do that you might ask?  I say why the heck wouldn't you want to do that?  Patching and upgrades becomes a breeze, throw a host into maintence mode--all the VMs evacuate to other hosts in the cluster then reboot the host.  When it comes up it's running the latest and greatest version of ESXi.  No extra leg work patching the host, it gets it automatically upon boot!  Think of the possibilities with DPM in the mix, a good amount of your environment can be automatically upgraded nightly when hosts get powered back on by DPM.
Provisioning
Provisioning becomes much easier--no need to install ESXi, and along with that the extra hardware required (SD Cards + Reader, Mirrored OS Drives, etc.)  Just rack new hardware and configure the BIOS for PXE boot and go!
Want to learn more?  Max Daneri threw together a great overview powerpoint
Ready to download? Grab it from VMware Labs and while your there check out other cool new things VMware is working on.

When using guest customization specifications in vCenter you may come across the following error when deploying a VM using a specification: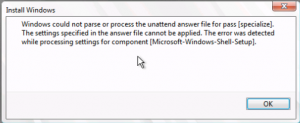 Windows could not parse or process the unattend answer file for pass specialize.  The settings specified in the answer file cannot be applied.  The error was detected while processing settings for component [Microsoft-Windows-Shell-Setup].
The Solution
Edit the specification and double check your product key, an invalid key is a common reason for this error.  In my experience Windows 2008 and Windows 2008 R2 keys cannot be interchanged--yet I see this attempted to be done in guest specifications.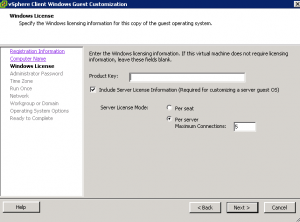 Your just going about your day, trying to P2V a machine using the Cold Clone when you get the error: Unable to determine Guest OS
You check the client log and don't find anything helpful:
vmware

-

converter

-

client

-

0.log

[

2011

-

02

-

15

09

:

35

:

08.718

'P2V'

840

error

]

[

task

,

296

]

Task

failed

:

P2VError

UNABLE_TO_DETERMINE_GUEST_OS
Then you check the agent log and it sheds light on the problem:
vmware

-

converter

-

agent

-

0.log

[

#3] [2011-02-15 09:35:23.000 'App' 268 warning] [attachedDiskWin32,499] Warning: no attached disks were detected.

[

#3] [2011-02-15 09:35:23.000 'App' 268 error] [slave,359] No local disks were detected, so no local host config info.

[

#3] [2011-02-15 09:35:23.000 'App' 1072 error] [importSource,369] Unable to read OS info from system disk: vmodl.fault.SystemError

[

#3] [2011-02-15 09:35:23.000 'App' 1072 error] [imageProcessingTaskImpl,572] VmiQuerySourceInfoTask::task{2}: Image processing task has failed with MethodFault::Exception: sysimage.fault.UnableToDetermineGuestOs
Looks like WinPE didn't find a suitable driver for our storage adapter.  Not a problem heres the steps to correct this: